Allie Ticktin, MA, OTD, OTR/L, SIPT - May 24, 2022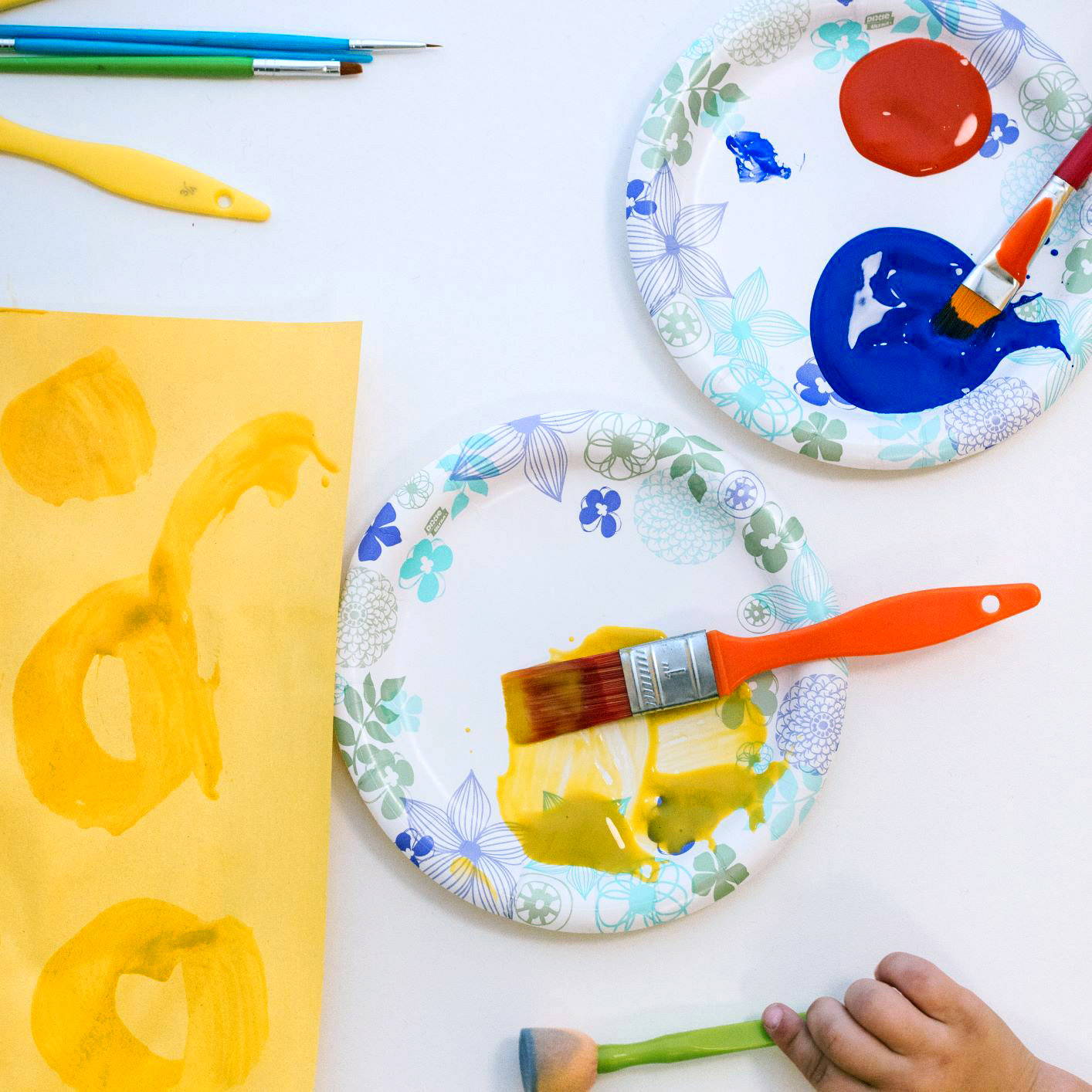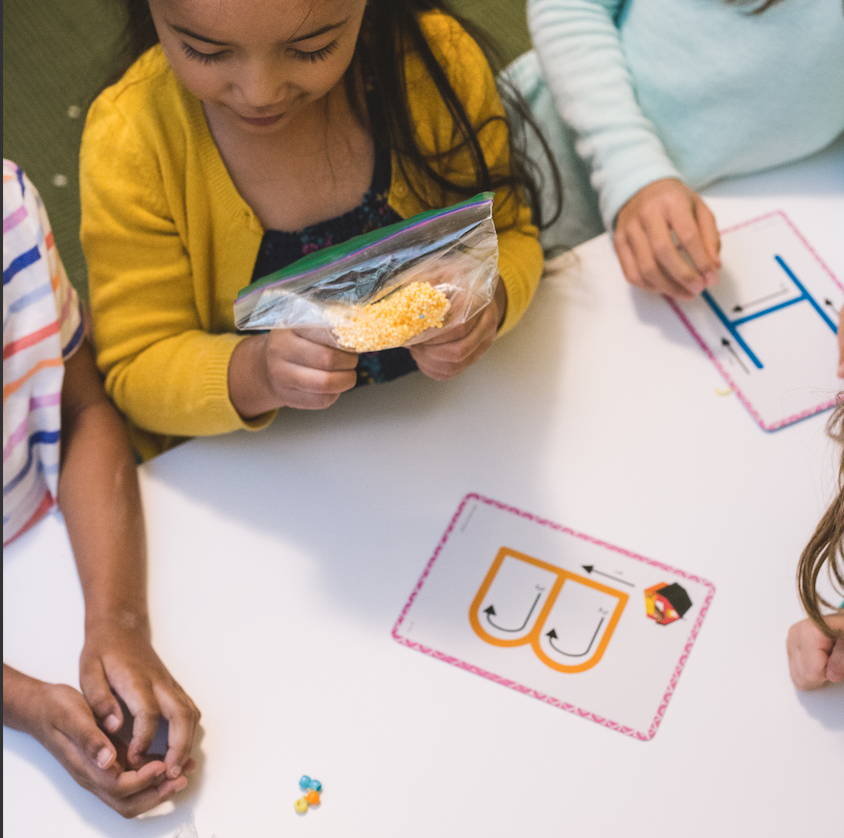 If you've ever been around children, you know they are naturally curious. Perhaps that's a polite way of describing the insatiable urge children have to touch, squeeze, lick, poke, examine, and ask questions about EVERYTHING in the world around them. From the minute they gain control of their limbs, children want to use them to experience the world with all five senses. They explore, observe and imitate, trying to figure out how things operate and how to control themselves and their environments. This unrestricted exploration helps children form connections in their brain — and it's also fun.
As a parent, how can you harness this unbridled (and often exhaustive) curiosity, without stifling the developmental growth it spurs? Arts and crafts are a natural activity that support this free play. The freedom to manipulate different materials in an organic and unstructured way allows for exploration and experimentation. These artistic endeavors and self-directed explorations are not only fun, but educational as well. Art can provide practice for a wide range of skills that are useful not only for life, but also learning.
Although some may regard art and craft education as a luxury, simple creative activities are some of the building blocks of child development.
Physical Developmental Benefits of Arts & Crafts
Arts and crafts are not just a way to pass an afternoon. They are fundamental exercises that strengthen muscles and motor skills.
- Fine motor skills: Most arts and crafts activities involve the hands and fingers. Even simple actions like coloring with pencils or holding a paintbrush will help to strengthen the muscles and improve control.
- Dexterity: Arts and crafts can increase the manual dexterity of a child's hands, while also working on hand strength.
- Hand-eye coordination: From simply moving a crayon, to gluing paper, and stringing beads, engaging in arts and crafts-related activities from a very young age leads to improvement in hand-eye coordination. This will help a child during the later primary-school years when she is forming letters or spacing out words.

Arts & Craft for Social and Emotional Development
Likewise, arts and crafts activities have a wide range of impact on social and emotional development.
- Language Development: For very young children, making art—or just talking about it—provides opportunities to learn words for colors, shapes and actions. Parents can do simple activities such as crumpling up paper and calling it a "ball."

- Decision Making: The experience of making decisions and choices in the course of creating art carries over into other parts of life. Exploring, thinking, experimenting and trying new ideas help build confidence in creativity. Facing and solving artistic challenges will help a child learn to make effective and correct decisions. This helps to develop a problem-solving oriented attitude.

- Visual Learning: Drawing, sculpting with clay and threading beads on a string all develop visual-spatial skills. Through arts and crafts, a child not only learns about new shapes and colors but also becomes aware of different patterns and figures. Activities such as jewelry making or sculpting even require visualizing and memorizing complex designs in the mind.

- Ideation: When kids are encouraged to come up with new ideas, express themselves and take risks in creating art, they develop a sense of innovation that will be important in their adult lives. Art is a way to encourage the process and the experience of thinking and making things better!

- Self-expression: Engaging in a creative pursuit like arts and crafts gives a child the opportunity to express his feelings in a meaningful, tangible and positive way. They also derive satisfaction from independently making something on their own.

- Socializing: Being together with other children in an art class gives a child the opportunity to interact and socialize with those sharing similar interests. And, when parents show an interest in doing the activity with their child, it strengthens the parent-child bond as well.

- Self-esteem: Art and craft-related activities instill a sense of pride and achievement in a child, which helps boost self-esteem.

Parent Involvement With Arts & Crafts
While arts and crafts can be a great way to encourage independent play and exploration, parental involvement will definitely help with development. Talk with your child about their work. Though it's often hard to decipher a child's drawings, the child knows exactly what it is. Ask open-ended questions like, "Tell me about your picture." You can also describe specific things your child is doing by saying things such as, "You're making short lines, I see you are using red, green and blue." You can also describe the actions your child is taking or the materials they are using by saying things such as, "I noticed you are making small circles." Other ways to encourage both physical and emotions development with your child can include:
- Provide choices: Gather a wide range of materials for your child to use like paint, colored pencils, chalk, play dough, markers, crayons, oil pastels, scissors and stamps. Mix it up by bringing in unexpected materials like Q-tips, dinosaurs, dry pasta or beans.

- Support without leading: Allow your child to decide what materials they want to use and how and when to use them.
- Keep it open-ended: Instead of sitting down with a specific plan or outcome in mind, let your child explore, experiment and use their imaginations. They might make a big mess or change their mind several times—this is all part of the creative process.

- Focus on the process, not the end result: Encouraging your child in the action of unstructured art helps them work with intrinsic motivation. It teaches them to express themselves freely, without worrying about what others think. Part of focusing on the process involves encouraging effort; exploration and effort are more important than the end product.

- Stand back:As long as a child is safe (i.e., not running with scissors), let them explore. They may find that crushing the crayons onto the paper creates a cool look instead of actually drawing. When we give them freedom to discover, they are learning to create and experiment in new and innovative ways.

In addition to helping your child develop important physical and emotional skills, the free expression that comes with arts and crafts is good for overall health and well-being. Giving your child a creative outlet can help relieve stress and work through challenging events and changes. By encouraging artistic expression, you can help facilitate learning. So, get your child some art supplies … and some easily washable clothes.