Allie Ticktin, MA, OTD, OTR/L, SIPT - May 24, 2022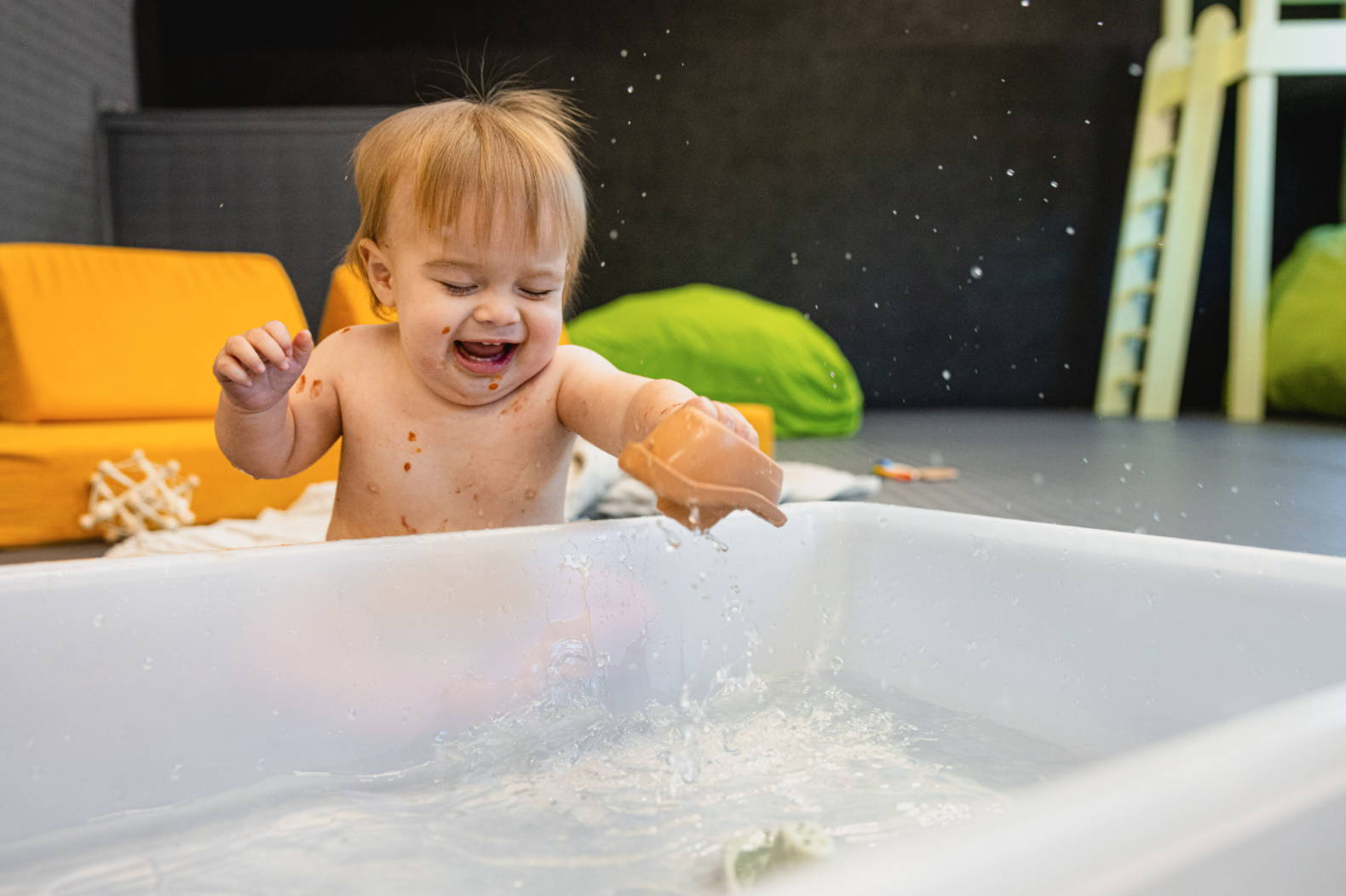 You may have noticed that throughout infancy and early childhood, your child wants to put just about everything in their mouth. They want to touch everything they see and climb onto anything that looks like it can be scaled. And yes, they will even smell and lick the grossest things possible. This is because from birth through to early childhood, children use their senses to explore and try to make sense of the world around them.
Children, and even us adults, learn best and retain the most information when engaging their senses. If you think about it, many of our favorite memories are associated with one or more of our senses, like the smell of your summer night campfire or the taste of your grandmother's apple pie. When your nostrils and taste buds are stimulated with those familiar smells and tastes respectively, your brain triggers a flashback sense memory that instantly brings you back to a specific place and time –– whether you want to or not.
With that in mind, though it might feel messy, inconvenient, or even unsanitary at times, providing opportunities for children to actively use their senses as they explore their world through 'sensory play' is crucial to brain development. On a level of the brain, it helps to build nerve connections in the brain's pathways, which encourages a child's ability to complete more complex learning tasks. This supports cognitive growth which encompasses language development, gross motor skills, social interaction and problem solving skills.
The Three Lesser Known Senses
We often talk about the five senses: taste, touch, smell, sight, and hearing. These are all a reaction to stimuli to different parts of our bodies. However there are three other senses commonly overlooked:
Proprioception, our sense of where we are in space,is the feedback our brains receive from stretch receptors in our muscles and pressure receptors in joints which enable us to gain a sense of where our bodies are in space. Vestibular sense, or sense of movement, is stimulation of the vestibular system of the inner ear to tell us our body position in relation to gravity.
And the third sense is interoception, which is the perception of sensations from inside the body. It includes the perception of physical sensations related to internal organ function such as heartbeat, respiration, satiety, as well as the autonomic nervous system activity related to emotions. Interoception helps you understand and feel what's going on inside your body. For instance, you know if your heart is beating fast or if you need to breathe more deeply. It also helps you determine if you need to use the bathroom, or are hungry, full, hot, cold, thirsty, nauseated, itchy, or ticklish.
What Is Sensory Play?
So, what is sensory play, and what does it have to do with all of these different senses?
Sensory play encompasses play that engages any of your child's senses. This includes touch, smell, sight, sound and taste. But, it also covers those three hidden senses: movement, balance, awareness of where we are in space, and internal awareness from interoception. Kids learn through their senses. They mature over time as babies, toddlers, and preschoolers explore the sensory world around them. Each new experience they have with a different sense builds nerve connections that grow the architecture of their brain.
Sensory activities facilitate exploration and naturally encourage children to use scientific processes while they play, create, investigate and explore. The sensory activities allow children to refine their thresholds for different sensory information helping their brain to create stronger connections to process and respond to sensory information.
Types of Sensory Play
As there is more than one sense, there are many ways for your child to engage in sensory play. The different characteristics of sensory play align to the five common senses, along with three additional senses related to vestibular (movement), interoception and proprioception (the perception or awareness of the position and movement of the body).
1. Tactile Play
The most common and well known type of sensory play is tactile. Any time you see children exploring an object with their hands, they're using tactile play. From tactile play, children can learn about pressure, temperature, texture, and so much more.
2. Vestibular Sensory Play 
The vestibular system is located in the inner ear, and it assists in our relationship with gravity. Rolling around, swinging, and jumping can all contribute to this ongoing development. Though it might induce a little parental anxiety, getting your child's head into as many different positions as possible helps strengthen the vestibular system by activating various receptors in the ear.
3. Proprioception Sensory Play
Proprioception, otherwise known as body awareness, is your body's ability to sense the orientation of where your body is in space. It allows you to move freely without having to consciously think about where you are in space or in your environment.  Through proprioception, children learn where they are physically in space and how their limbs relate to the rest of their body. Sensory play to strengthen proprioception is heavy work –– think pushing, pulling, and jumping –– helps your child develop spatial awareness of their body.
4. Auditory Sensory Play
It might not be your favorite type of play, but auditory play helps your child differentiate sounds and develop their hearing. Though it's probably against your better judgment, and sanity, give your child a wooden spoon and a saucepan and you'll see how they explore sound through play.
6. Visual Sensory Play
Visual play helps to develop your child's vision and sight. Playing with, and identifying, colors and patterns is a fun and engaging way to encourage visual sensory play. Practice visual tracking by following bubbles float through the air.
7. Olfactory Sensory Play
Olfactory relates to the senses of smell. It can be harder to gauge when a child is using their sense of smell, but obvious examples include when they smell flowers or their lunch before taking a bite. Children can develop these senses through games that encourage the exploration of smell, like blindfolding your child and having them guess the food in front of them. Even everyday activities like including your child in grocery shopping, cooking, baking, or gardening can be olfactory sensory play.
8. Gustatory Sensory Play
Related to olfactory, your gustatory sense detects taste, and sensory play can be quite delicious. Infants and young children use their mouths as one of the first ways they experience the world, like licking a patch of sidewalk. You can be more intentional (and hygienic) about sensory play by simply letting your child play with their food or helping you cook.
Benefits of Sensory Play From Infancy to Preschool
The benefits of sensory play are vast and can make an enormous impact on physical and emotional development in a child's early years. Sensory play encourages learning through exploration, curiosity, problem solving and creativity, while also helping to build nerve connections in the brain and encourages the development of language and motor skills. There are many benefits that may go unnoticed, such as attention. Sensory play is an important part of childhood and, within reason, there are really no limits to what you can use in sensory activities. Nature and mundane chores around the home can often be your best friend when it comes to sensory play.
From the first day of life, babies learn and develop new connections in their brain through play. It also helps babies to learn more about the world around them and supports language development as they learn to respond to different stimuli. Sensory play in infancy is not complicated and does not require fancy toys. They can enjoy simple sensory play such as touching different objects and surfaces in your home and in the world, and hearing other children play
As they mature into toddlers, children start developing their critical thinking abilities and will start trying to do things for themselves. They are learning about concepts, like time and opposites, so activities that compare light and dark, and sorting colors, will encourage toddlers in their exploration through sensory play.
And, eventually, your preschooler can often be found engaging in sensory play without your intervention as they explore more independently and further develop language. Playing with musical instruments, and creating and building different shapes with various objects and materials, will further encourage these developments.
Sensory play can be intentional and it can happen naturally throughout your child's day. But, being mindful of what it is, and making sure your child has ample opportunities to express and explore their senses every day will help their overall development –– physically, emotionally, and creatively.